A safe bet
Our selection includes 10 of the best design collections that are among the most popular in the DesignVille range and which we have in stock ready to ship. Explore quality Scandinavian design that will warm your loved ones' hearts.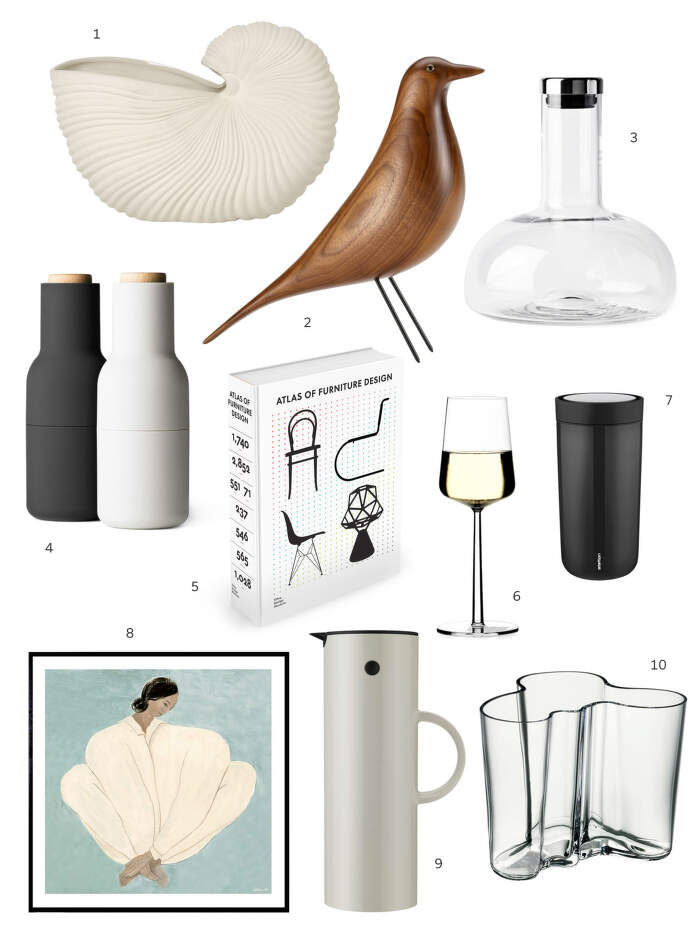 1. Shell Pot
The unique form that resembles a nautilus shell and the matt finish that contrasts with the lacquered interior make the Shell Pot from Ferm Living a standout decorative item even without flowers.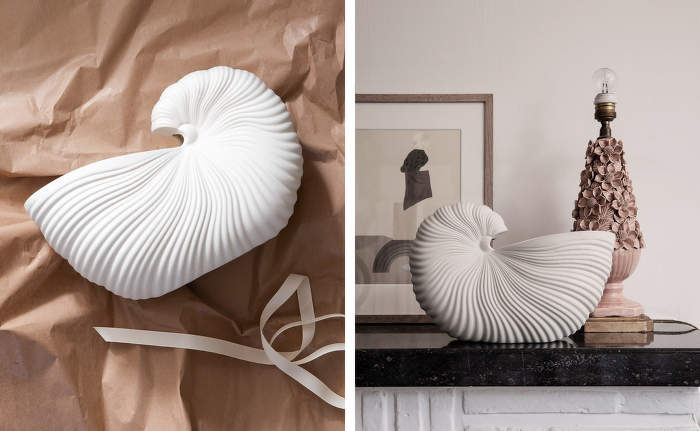 2. Iconic Eames House Bird
For more than 50 years, the Eames House Bird from Vitra has been a stylish, timeless decoration. It will be the perfect gift for every admirer of exquisite design. In addition to the traditional black design, a walnut bird is also available, as well as a special limited edition in shades of pale rose and dark green.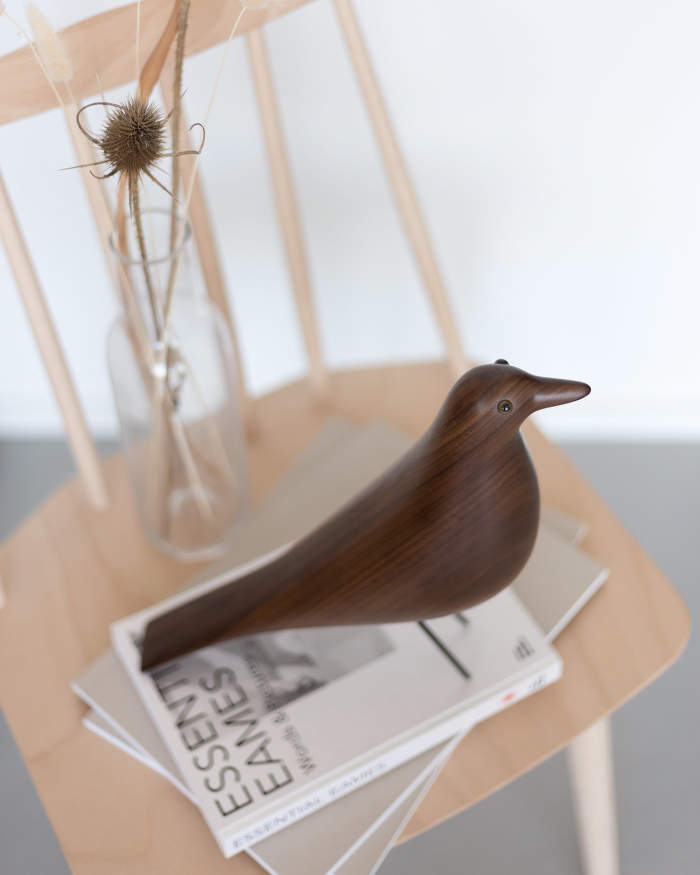 3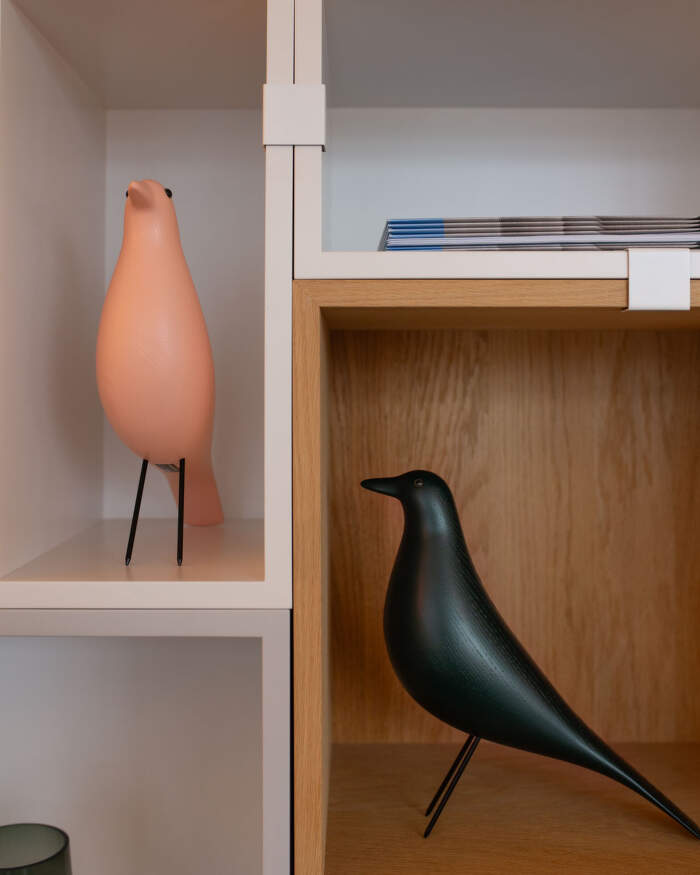 3. Winebreather Decanter
With the Winebreather decanter from Audo, drinking red wine takes on a whole new dimension. It makes the wine aerate faster, removes any acidity and bitterness, and allows its flavour to develop fully. Moreover, it takes just two minutes to aerate the wine.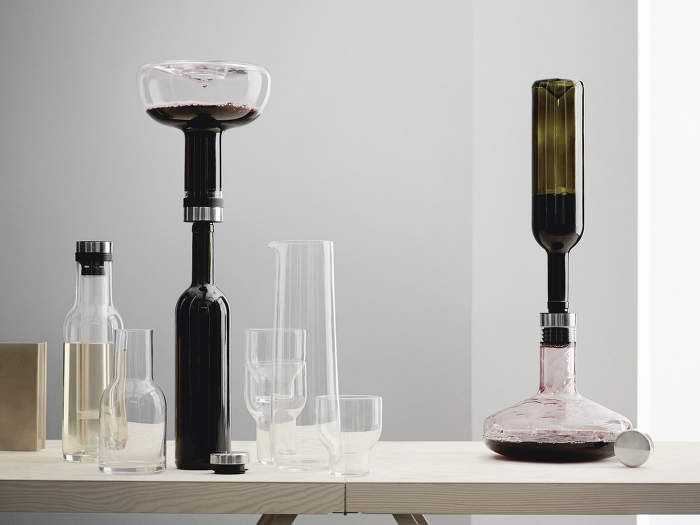 4

4. Bottle Grinders

Available in a range of colors Audo's Bottle salt and pepper grinders make a wonderful decorative accent for any kitchen counter and are the ideal addition to any culinary enthusiast's collection. The grinder itself is located in the top part, which prevents the spices from spilling out spontaneously. A scaled-down version of the original classic is this year's new addition that you shouldn't miss.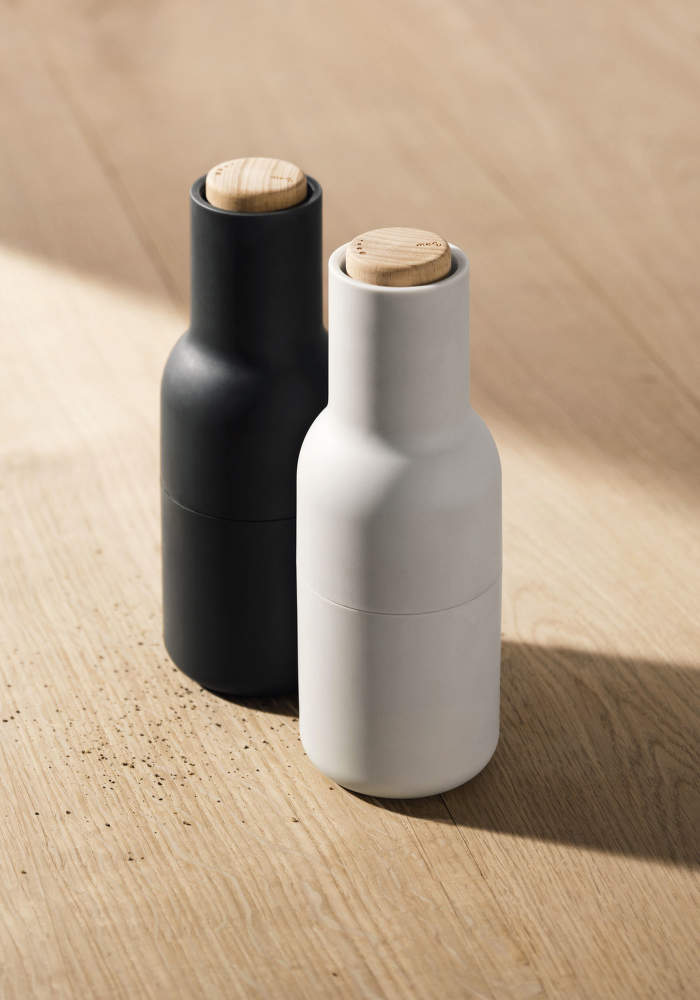 5. Atlas of Furniture Design
In more than 1,000 pages of this unique publication devoted to the most important moments in the history of modern design, every reader will find something for himself or herself, whether he or she is keen to learn about the design icons themselves or perhaps the socio-cultural context of their creation. The Atlas of Furniture Design is the result of more than 20 years of research by the Vitra Design Museum and includes engaging, fact-filled texts, complete with illustrations, photographs, and information graphics.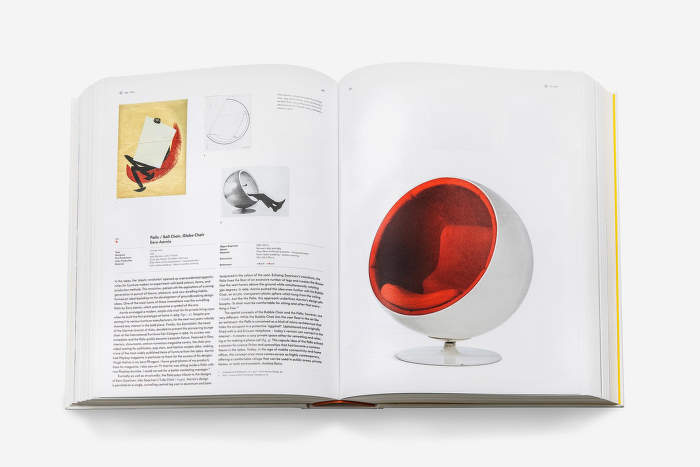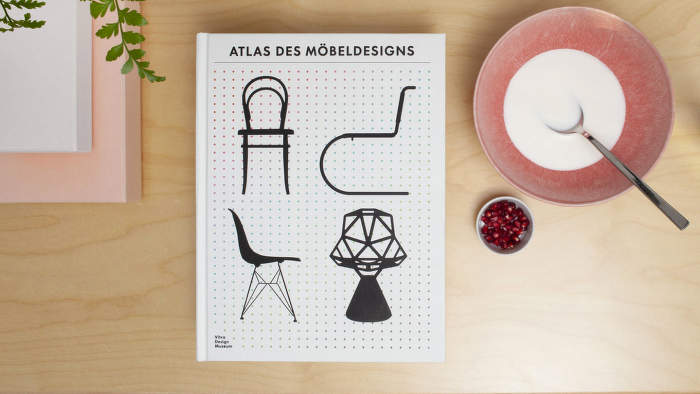 Source: vitra.com
6. Iittala's Essence Glassware
The elegant Essence Collection by Finnish brand Iittala offers something for everyone, whether your loved ones like to enjoy a glass of red, a mixed drink, or a beer. Designer Alfredo Häberli has created a range of glasses that each accentuates the flavour of the spirit, yet they fit together perfectly thanks to their unified design with a thin glass stem.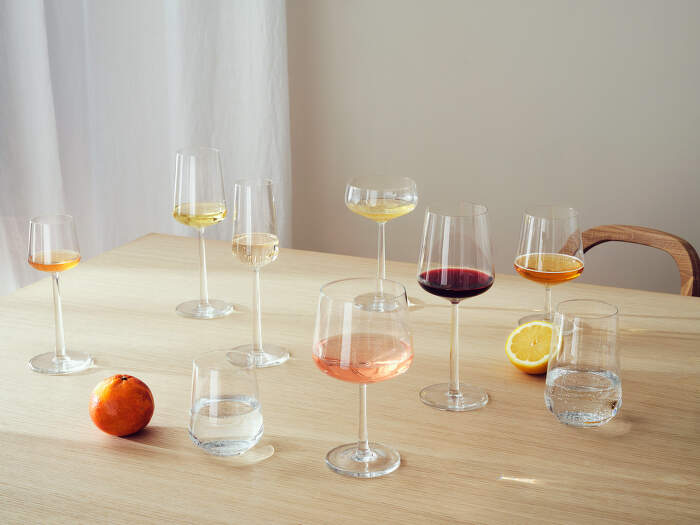 7. To Go Click Thermomugs
The stylish and practical To Go Click thermo mug from Stelton features a lid with innovative "smart-click" technology. This allows you to drink from the mug around its whole circumference without letting a drop leak out when closed. The mug has a beautiful minimalist design and comes in several stylish colours.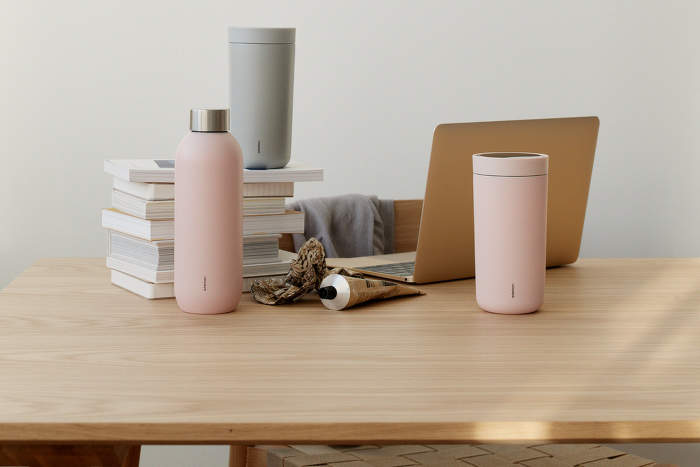 8. Artistic posters by The Poster Club
It may not be easy to meet the tastes of your loved ones, especially when it comes to home accessories. Luckily, Danish studio The Poster Club has done the hard work for you, curating a selection of the best prints created in collaboration with established as well as emerging artists.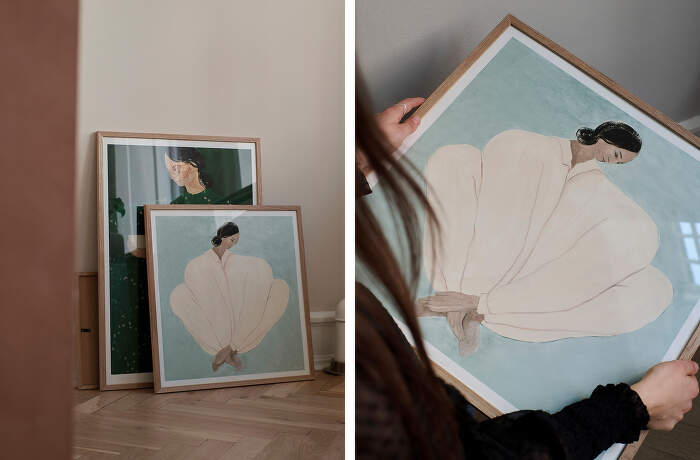 9. Stelton's EM77 Collection
Introduced by the designer Erik Mangussen in the 1970s, the recognizable lines of the EM77 collection have dominated the best-seller lists ever since. You are sure to see a joyful reaction regardless of whether you opt for a coffee maker, kettle, or thermos!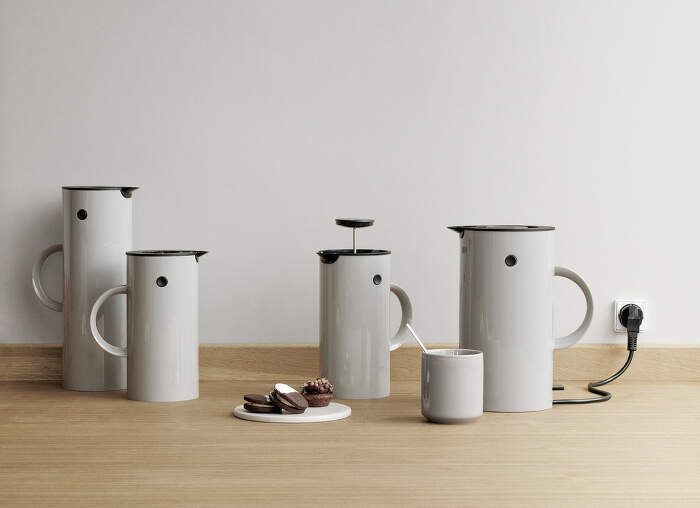 10. Legendary Aalto Vases
The Savoy or Aalto vases, created in 1936 by the renowned Alvar Aalto, have long been regarded as a hallmark of Finnish design. It should come as no surprise that many design enthusiasts dream of having at least one of them.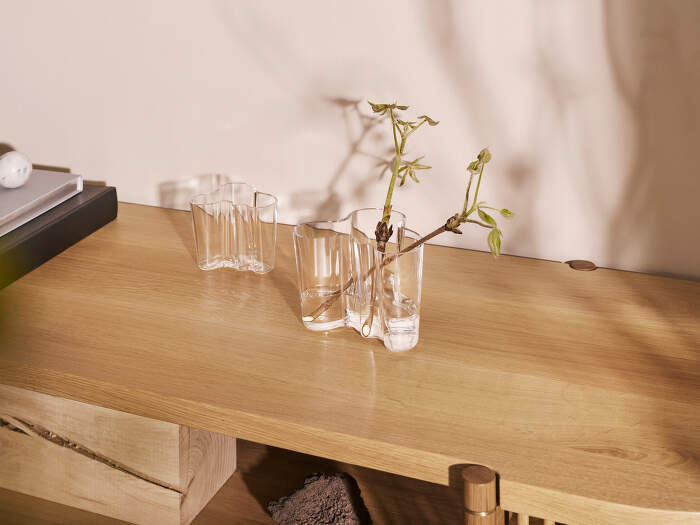 In addition to our TOP 10 selection, you can also find inspiration in our Scandinavian Christmas guide, which we hope will make your search for the most beautiful Nordic-style gifts both more enjoyable and easier.