Karin and Xavier Donck, interior designer and architect, live in the Belgian port city of Ghent, yet you'll find design from all over the world in their home. The search for extraordinary finds has become an integral part of their travels. So, as well as experiences, they bring home new furniture, art, plants or any beautiful objects that catch their eye on their journey. These then remind them of their travels and also shape the character of their home.

"Every object has its own story. The more objects you have from all over the world, the more stories you bring into your home."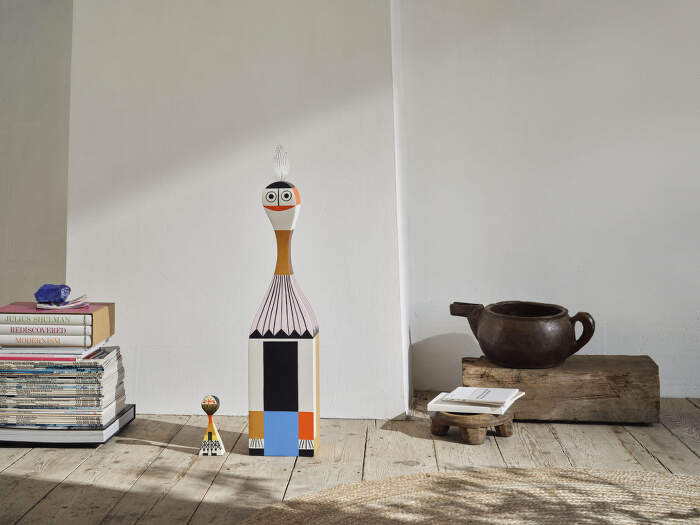 That's why Karin and Xavier like pieces with a long history. Their interior is full of them – whether it's genuine vintage furniture or new furniture designed many decades ago. A perfect example is the iconic Eames Lounge Chair designed by Charles and Ray Eames in 1956, as well as others from their portfolio, such as the famous wooden Eames House Bird.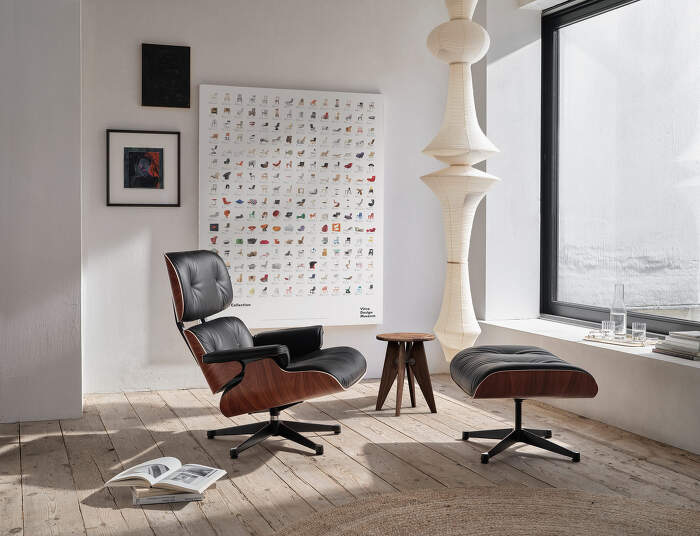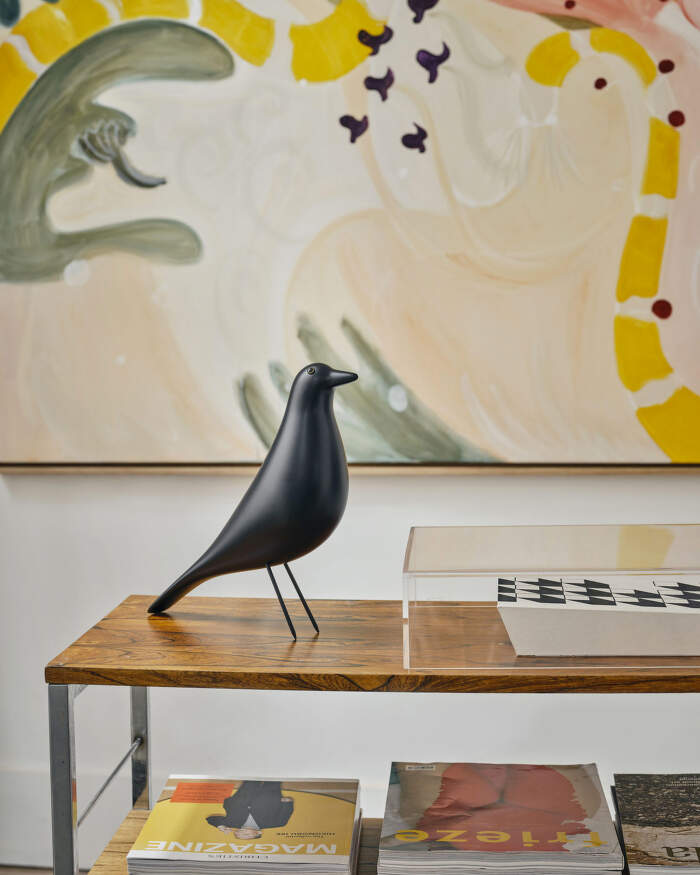 Besides the designs by the American design couple, Karin and Xavier love the work of French architect and designer Jean Prouvé. He won their admiration and a well-deserved place in their home with his technical approach, visible, for example, in his frequent use of metal. In fact, it is his table from the EM Table collection that is the most important piece of the entire interior. It serves as a meeting point for friends and family, to whom the doors of the Donck's house are always open.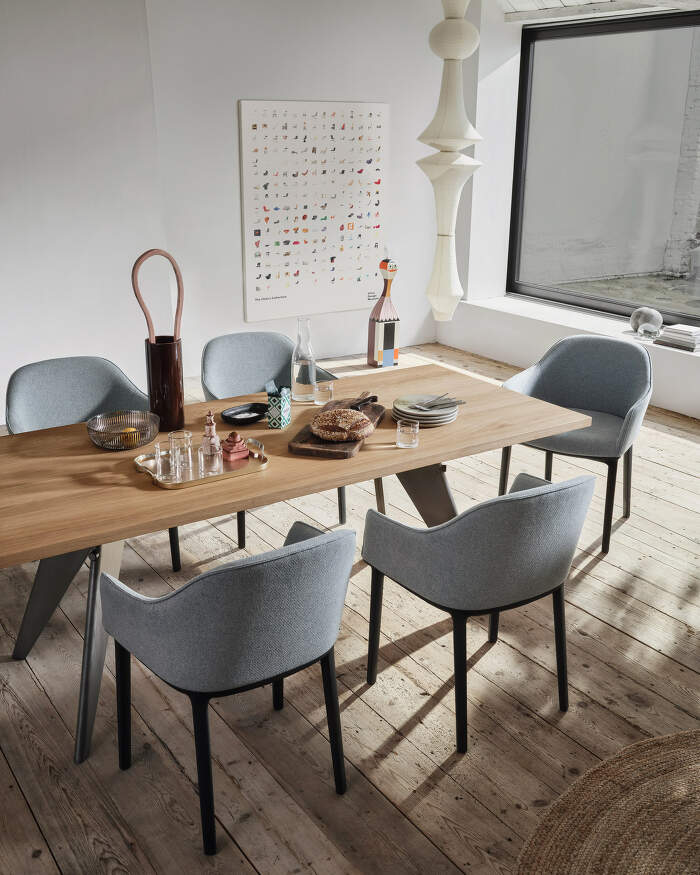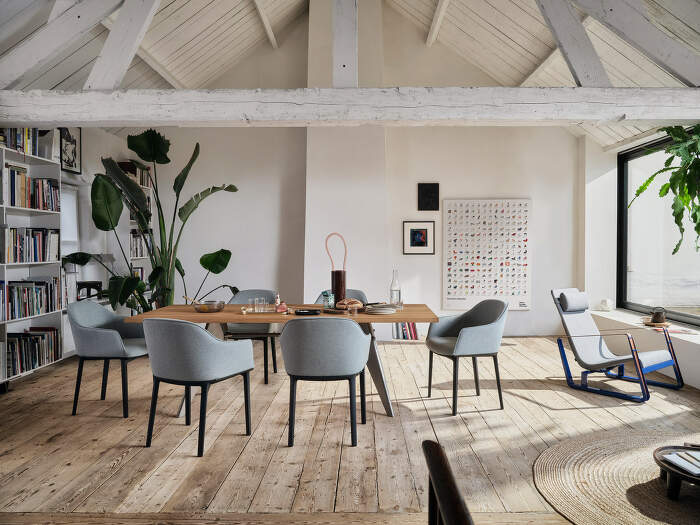 The EM Table (Jean Prouvé, 1950) is the house's centrepiece. Comfortable seating is provided by Softshell chairs (Ronan & Erwan Bouroullec, 2008).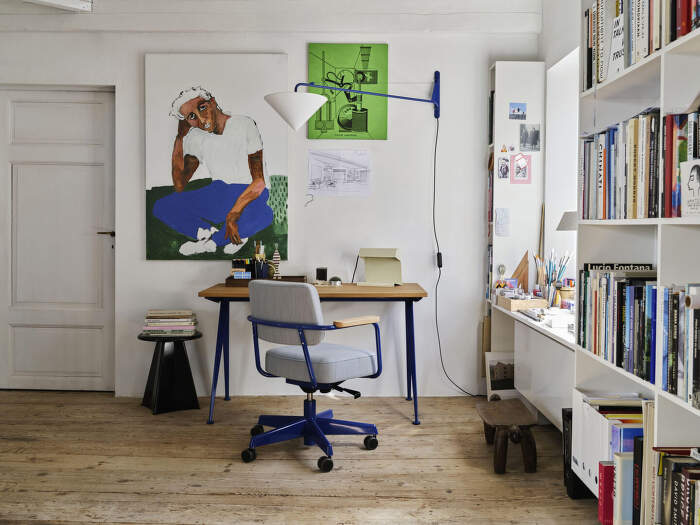 For the office, the couple also chose a table by Prouvé. The Compas Direction (1953) is complemented by the Lampe de Bureau table lamp (Jean Prouvé, 1930).
Karin and Xavier see openness and sharing as one of the guiding principles of their lives, therefore, they strive to create a space where not only them but also their loved ones feel comfortable. In this respect, comfortable, quality furniture becomes an integral part, or even a condition, for quality time together.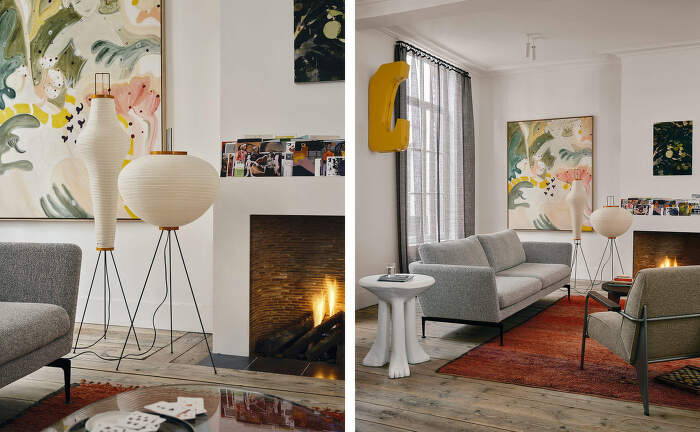 The living room features a Suita sofa, a Fauteuil de Salon armchair, Akari lamps (all Vitra), complete with art and vintage pieces.