In the past, knowing the wattage of a light bulb was enough to determine the intensity of light. However, for halogen, energy-saving and LED bulbs, watts only tell you about power consumption, not luminosity. It is therefore better to look at the luminous flux, which is indicated on the bulb packaging in lumens (lm). But how strong should the lights in each room be?
As a basic guide, you can use the following overview, which shows how strong bulbs are usually used in conventional lamps:
| Type of lamp | Recommended lm value (approx.) |
| --- | --- |
| Decorative light | 100-240 lm |
| Bedside lights | 200 lm |
| Desk lamps | 300-500 lm |
| Spot lights | 400 lm |
| Ceiling light in living room | 800 lm |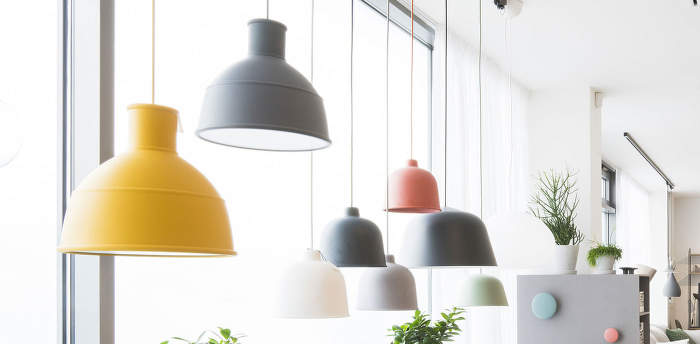 Calculation of luminous efficacy according to room size
However, if you want to get a more accurate idea of how strong your lighting should be in individual room in the apartment or house, use a simple formula. You will need to know the exact size of the room and the recommended value of lighting. These two variables can be multiplied to determine the amount of lighting that is necessary. So, it applies:
Area in m² × recommended illuminance value in lux (lx) = recommended illuminance in lumens (lm)
m² × lx = lm
Refer to the following tables for the recommended intensity values:
For general lighting in living rooms (ceiling luminaires)...
| Room | Value lx |
| --- | --- |
| Bedroom, living room, children's room, toilet | 100 lx |
| Kitchen, bathroom, hallway | 100-150 lx |
| Corridor | 75 lx |
Nonetheless, for some purpouses, a brighter lighting is deffinitely more suitable...
So if you wanted to find out how strong the light should be in, for example, a 3x4 metre bedroom, the calculation would be as follows: 12 m² × 100 lx = 1200 lm
However, one light source often isn't enough to adequately illuminate the majority of spaces. In a bedroom you will need wall lamps for reading in addition to the central pendant. It's also a good idea to think about the area layout. For example, if it's a bar counter or a long dining table, you can match the layout of the light fixtures as well. In this case, elongated ones like Ambit Rail or PC Linear are suitable. You should aim for the sum of several sources of different intensities to be around the calculated value.
It is important to stress, however, that the calculation is only a guideline. How strong of a bulb you need may be influenced by the angle at which the lamp throws light as well as the room's decoration or your personal preference.
How to convert watts to lumens
Are you switching from conventional light bulbs where you have already tested the luminosity? The following table will help you to get a rough idea of how many lumens correspond to the wattage of classic bulbs.
| Watts | Estimate of lumens |
| --- | --- |
| 100 | 1350 |
| 75 | 900 |
| 60 | 700 |
| 40 | 400 |
| 25 | 220 |