The vision of the Danish brand Skagerak is not only to sell garden furniture, but to ensure that the pieces are as useful and longlasting as possible. Therefore the brand strives for the highest quality production from responsibly selected sources, which together with good design will ensure that you will still love the pieces even after a few years. By combining these key approaches, Skagerak also seeks to inspire each individual to become a responsible user, rather than consumer, and to take proper care of the pieces. Which is the final step towards fulfilling the Danish manufacturer Skagerak's goal.
For the same reason, the vast majority of garden furniture is made from teak. The higher oil content of this wood puts it at the forefront of resistance to adverse outdoor influences, and it is also unusually hard and heavier in terms of weight. Skagerak therefore uses teak as close to the core of the trunk as possible, as it is even richer in oils. The teak wood has a lovely tint of gold as a result.
So when you buy new furniture, you have two options, which determine its future appearance. If you don't treat the furniture any further, the golden colour will turn to a silvery grey over time and it will get a slight patina, but neither will affect the durability of your pieces. If you wish to preserve the golden colour, you can oil your furniture regularly. Preferably once or twice a year using a special oil that Skagerak also offers.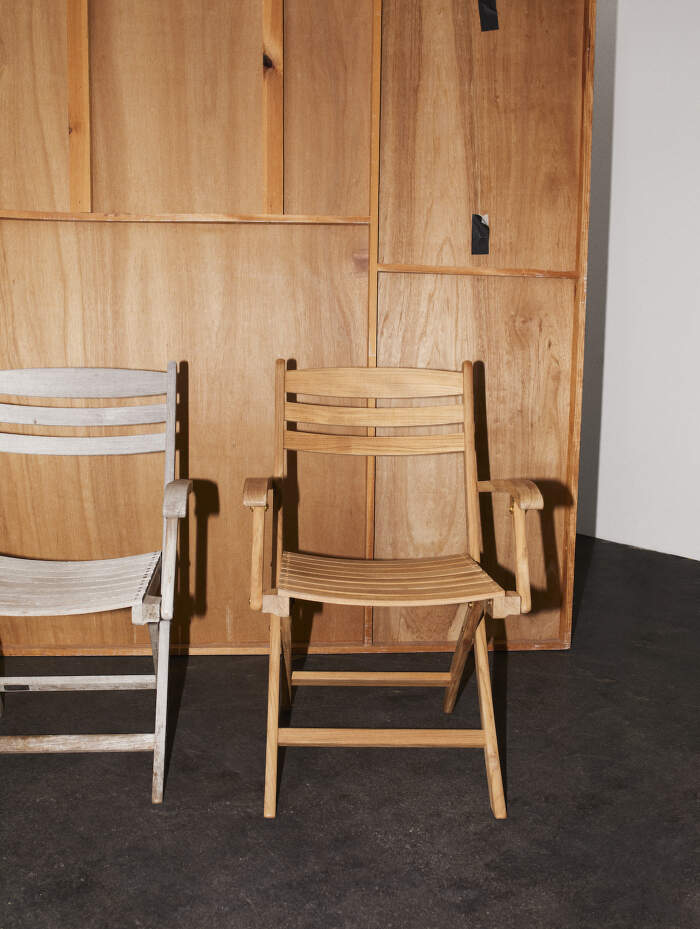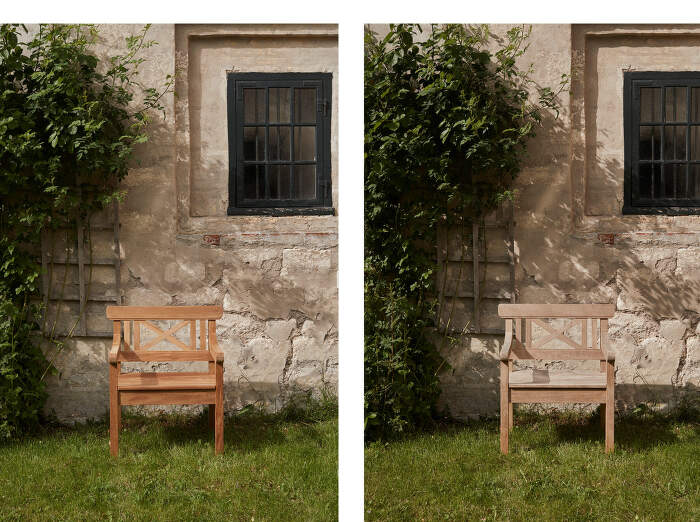 Give your furniture a rinse, at least once a year
Whether or not you choose to oil your furniture, if you want to maintain the best possible condition and life of your seating area, you should also wash your outdoor furniture – at least once a year. For these occasions, it's a good idea to have a Care Kit and a bucket or hose of water on hand. Preferably place the furniture on grass, as traces of the product may remain on other surfaces. Then you just dampen the wood and start washing with a brush dipped in water with the right ratio of mentioned product. Always brush in the direction of the wood grain. Then rinse again and leave to dry for at least a day.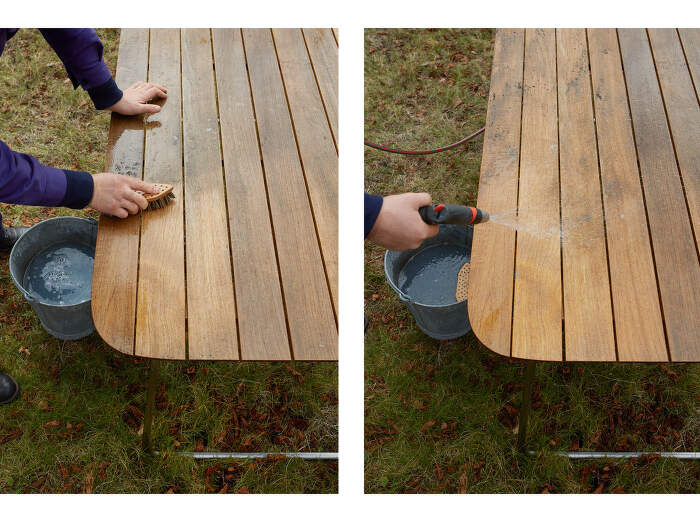 How to oil teak wood
The washed furniture is ready for further use or for the aforementioned oil treatment. We recommend to buy the Cura Oil specially developed for garden furniture from Skagerak. It's best to schedule this treatment for a time of year when it's not too hot, but at the same time the temperature doesn't drop below 13 degrees. If any fibres are peeling off the surface of the wood, sandpaper can be used first. Then comes the oil, which can be applied either with a brush or with a cotton cloth that doesn't shed fibres.
If, after twenty minutes, you still see excess oil on the wood, you can wipe it off with a clean cloth; if, on the other hand, the wood seems little bit dry, you can add a drop more. The oiled furniture should then dry for an average of two days, after which it should not come into contact with water.
By oiling your furniture regularly, you will be rewarded with a gorgeous, long-lasting golden shades of wood. And it is regardless of whether you pick one of the Skagerak portfolio's simpler designs or prefer the more traditional ones.