This name was chosen by the company (formerly known as Unique Copenhagen) in 2010. Its range includes iconic lighting fixtures from designers such as Verner Panton, Jørn Utzon and Arne Jacobsen, as well as beautiful and stylish contemporary designs from leading Scandinavian designers and design teams such as Sami Kallio, Norm Architects or Space Copenhagen.
Tradition founder Martin Kornbek Hansen put it this way: "We want to connect with the old masters while giving space to new designers to define what will become design classics in the future. We see a connection between the old masters who were avant-garde in their time and the new designers who are creating the icons of the future today."
&tradition builds on the heritage of Scandinavian design, combining precision craftsmanship with modern design, Nordic tradition with high quality. Like perhaps all Scandinavians, the people around &tradition have an ingrained respect for nature and a belief in timeless design.
However,
thanks to their innovative approach to manufacturing processes and the use of new materials, they have managed to sensitively combine tradition with modern design and the result is a beautiful portfolio of elegant, stylish furniture and lighting that will work in both modern interiors and classic spaces. Let's take a look at a few pieces: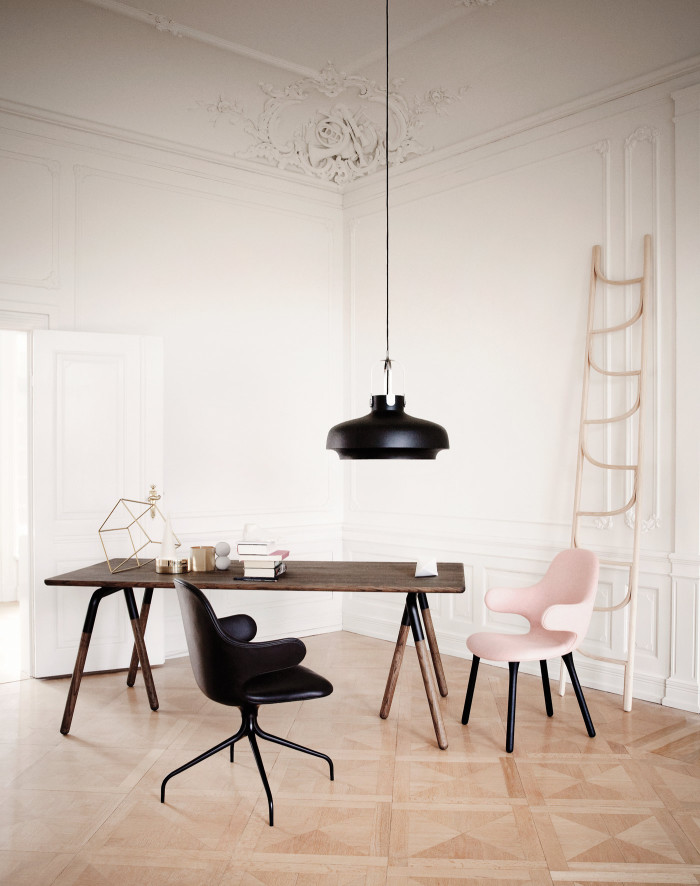 The Copenhagen pendant lamp is the hot new item at this year's Design and Living Fairs. In designing it, its creators Peter Bundgaard Rützou and Signe Bindslev Henriksen of studio Space Copenhagen were inspired by old marine gas lamps.
The Raft table in a smoke-oiled finish comes from the renowned architecture and design studio Norm Architects. Spanish designer Jaime Hayon has put a Southern warmth into the design of the Catch series of chairs and as the name suggests, this chair will open its arms and embrace you.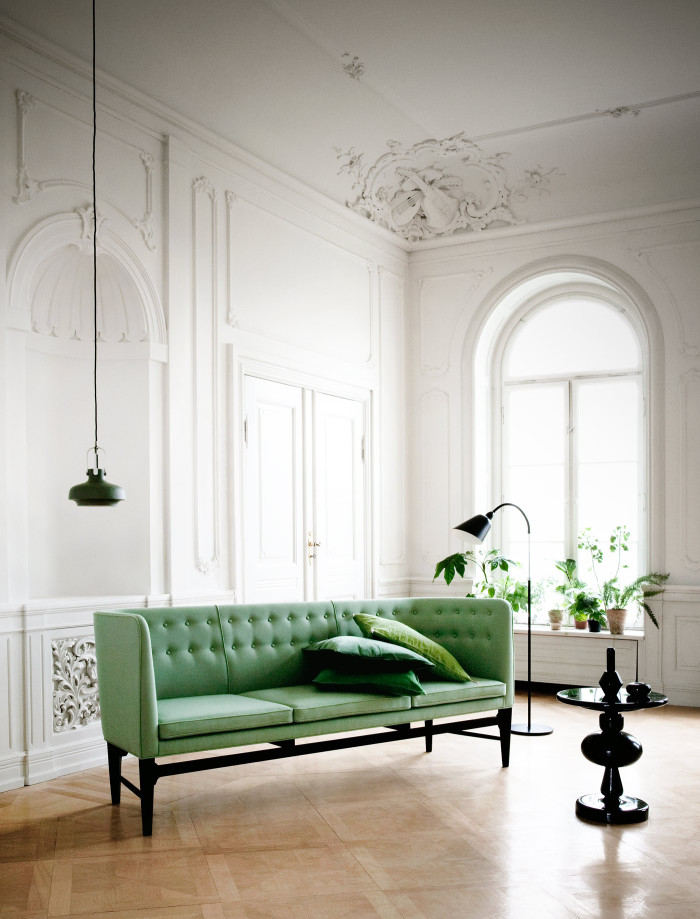 The Mayor Sofa is a classic design by two great figures of the modernist era: Arne Jacobsen and Flemming Lassen. Arne Jacobsen is also the creator of the Bellevue stand lamp, whose design dates back to 1929.
You determine the shape of the Shuffle black marble side table (design by Mia Hamborg) by the order in which you assemble the shape components. The Copenhagen SC6 hanging lamp in greenish is the smaller sister of the lamp you saw above the dining table in the previous picture.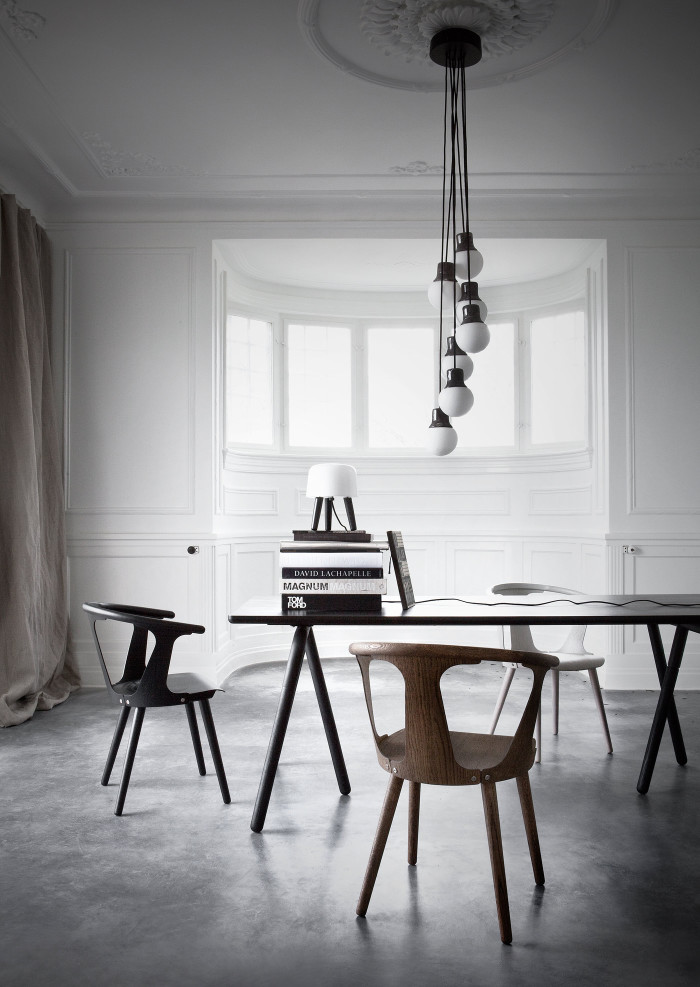 The Raft table in black stain is surrounded by In Between chairs in figured oak and ash veneer by Finnish designer Sami Kallio. The chandelier is composed of Mass pendant lights in marble and was designed by Kasper Rønn and Jonas Bjerre-Poulsen of Norm Architects. They are also the creators of the Milk table lamp, my love at first sight.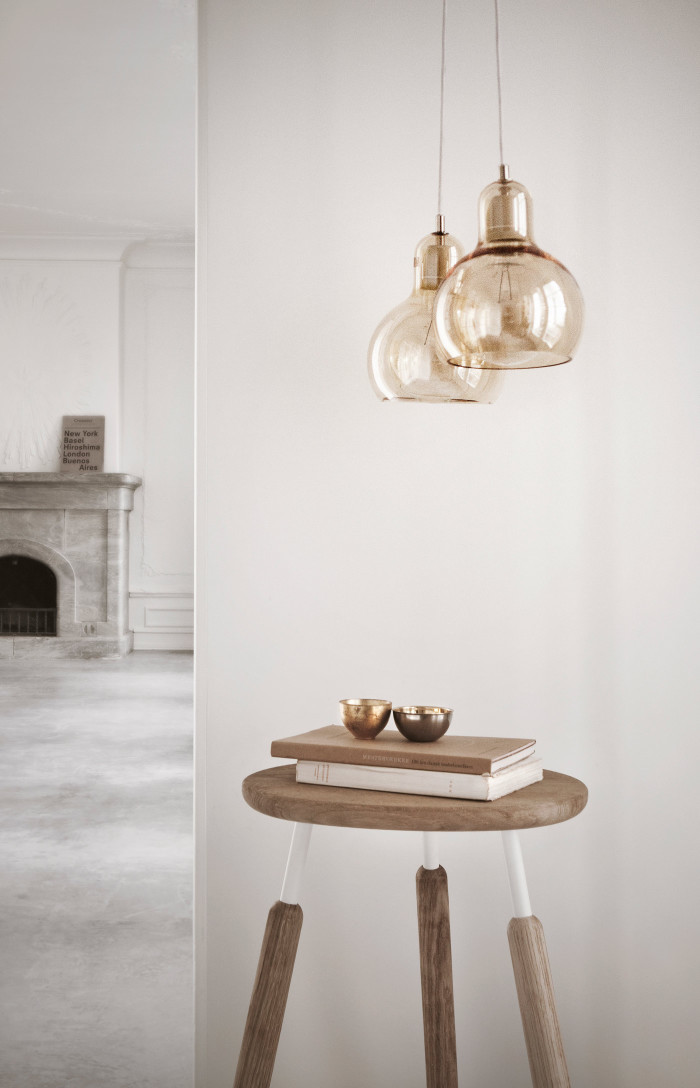 A chair from the Raft series in natural finish (designed by Norm Architects) combined with golden Mega Bulb lamps designed by Sofie Refer. This is just a small teaser - you can see other equally great pieces from the &tradition range in our e-shop.
Let me know how you like them!