We can't imagine a minute of our day without coffee, so we're taking the opportunity of Coffee Day to learn something new about coffee and introduce you to gadgets that can help you enjoy coffee in a different way than you might be used to.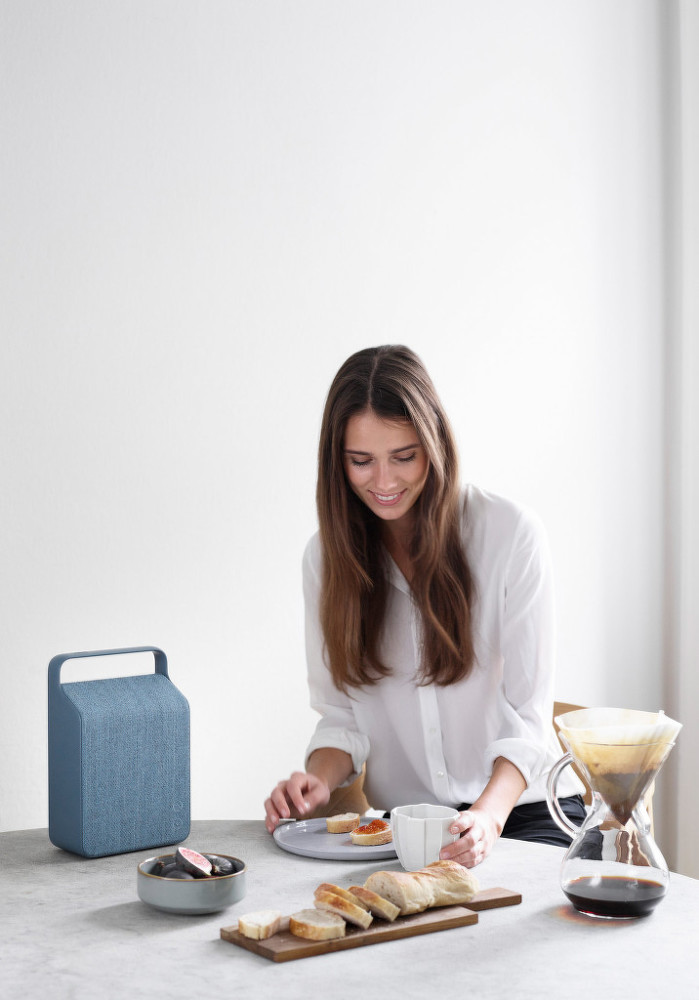 But let's talk a little about coffee first. The coffee tree's homeland is Ethiopia, where it was brought to Yemen in the late 13th century, where wild shrubs began to be cultivated. Until the end of the 18th century, coffee cultivation was exclusively a matter of the Arabian Peninsula, from where it spread further. "We know of about 90 varieties of coffee, of which arabica and robusta are the most widely cultivated," adds barista Jiří Preis.
Coffee can be prepared in countless ways - in addition to coffee from a lever coffee machine, you can enjoy filter coffee, French press or coffee from a moka pot. "The most important thing for the taste of coffee is the beans themselves, so I recommend buying coffee from reputable roasters," advises the barista. So how can you make coffee at home?
Moka pot
A moka pot can be used to make a strong coffee with a taste similar to espresso. "You pour water into the bottom container, pour the ground coffee beans into the sieve in the middle and put it on the stove. The boiling water is pressed through the coffee and you can enjoy a strong coffee from the pot," says the barista.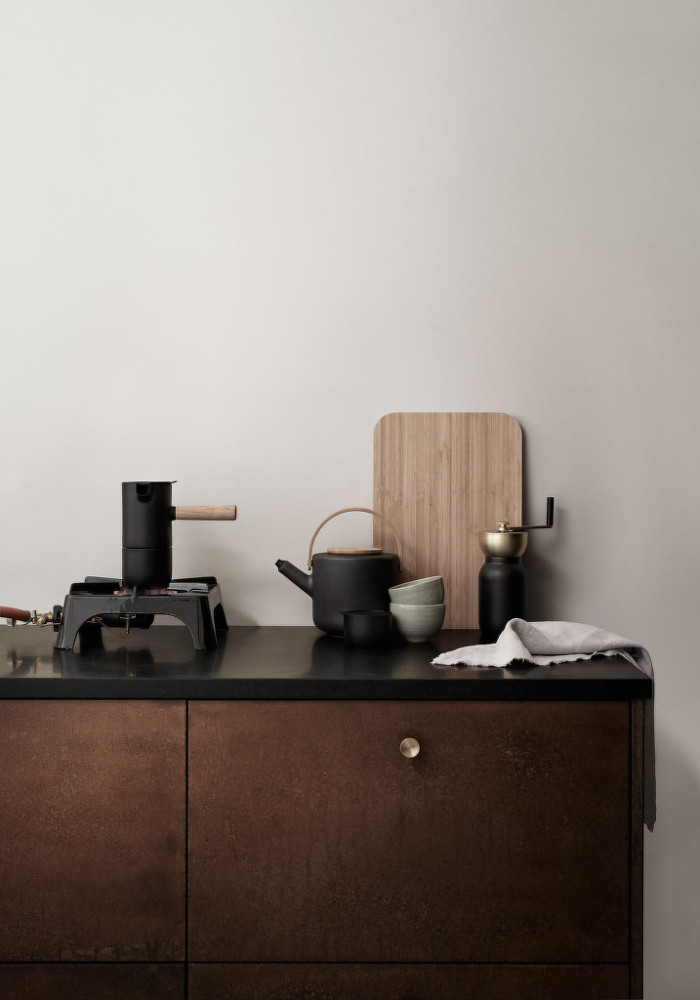 The Collar mocha pot from Stelton is supremely stylish, coming from Italian designers Daniel Debiasi and Fredrico Sandri, whose design combines the Italian love of coffee with Scandinavian minimalist design and precision craftsmanship. The Collar coffee grinder, which we at DesignVille are absolutely delighted with, is a perfect match.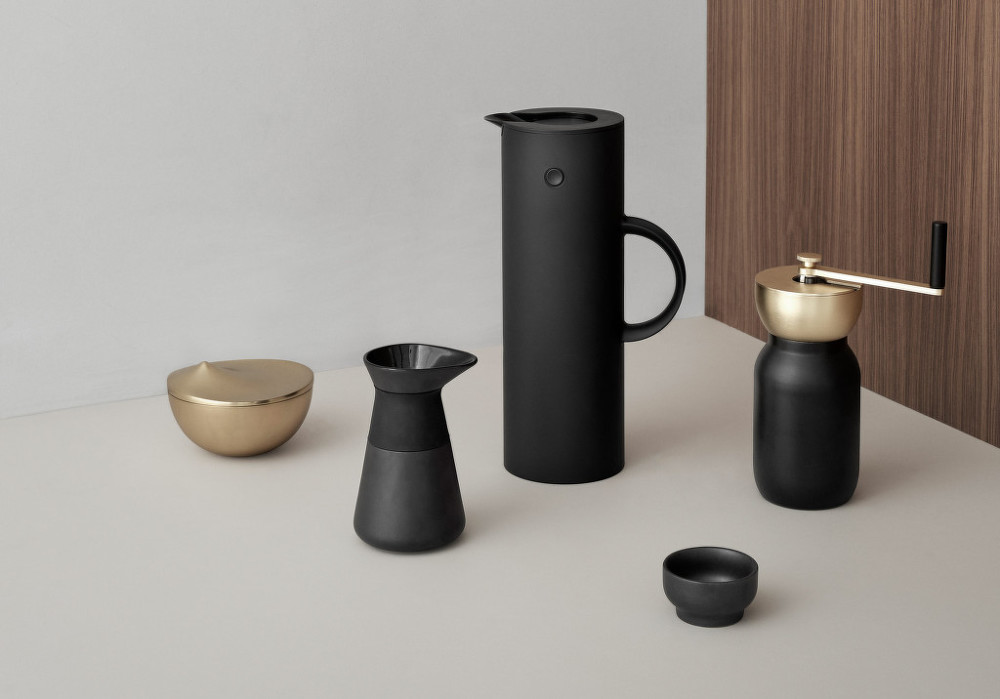 French press coffee maker
From the Danish brand Stelton comes the French press range from the EM collection, which has been a design icon for decades. "Recently, the French press has become a popular option for coffee preparation. You can enjoy a fine filtered coffee from it," says the barista, adding, "In Scandinavia, the beans are roasted very light, which brings out the fruity flavour in the coffee, and it is this flavour that is perfect for the French press."
For the record, Scandinavians are some of the biggest coffee consumers ever, mainly because of their preference for the French press, in which they prepare large quantities of coffee which they then drink throughout the day.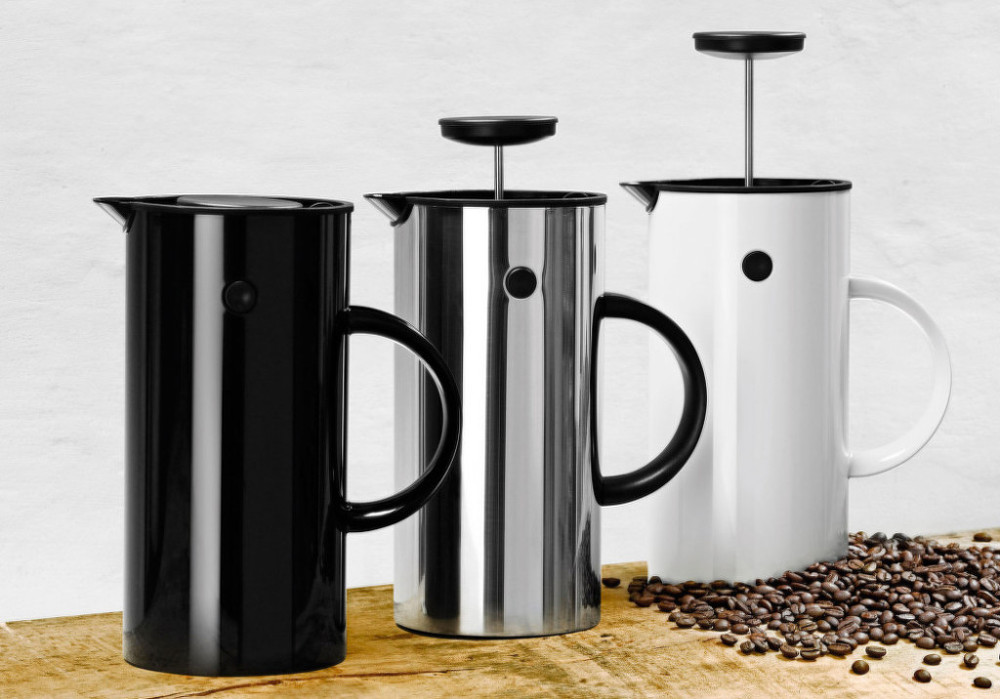 Making coffee with a French press is very simple, so it's no wonder there are countless designs to choose from - like the Theo coffee maker from Stelton or the Push Coffee Maker from Muuto.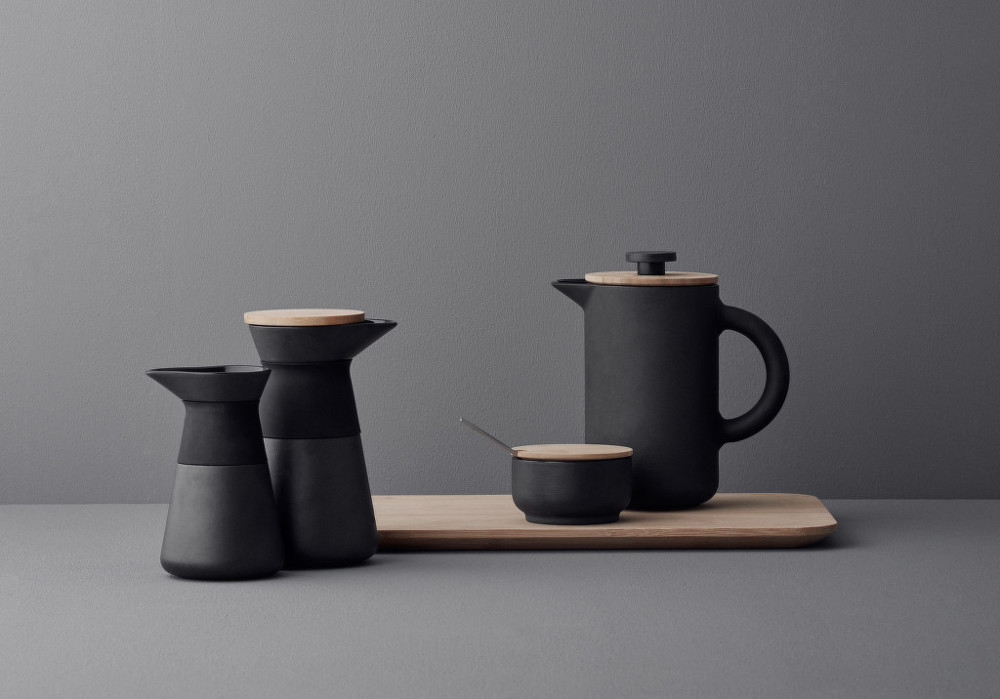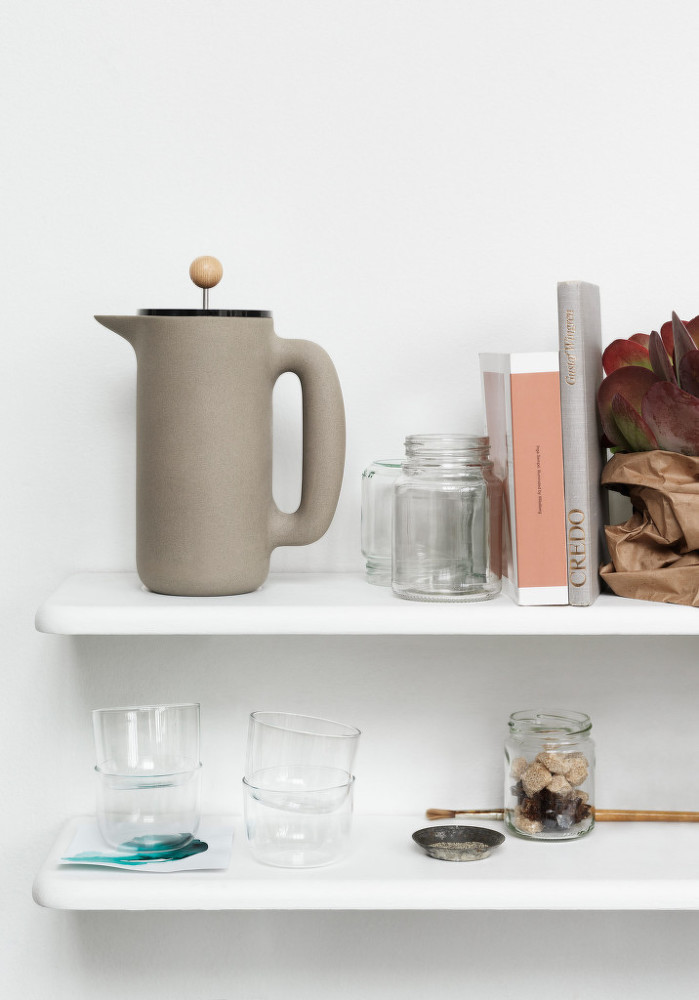 Filtered coffee
The Theo collection in minimalist Nordic design is perfect for coffee and tea lovers. It also includes a filter coffee pot, the top of which fits over the pot, filter paper is inserted and the coffee is filtered. This method of preparation results in a very delicate tasting coffee.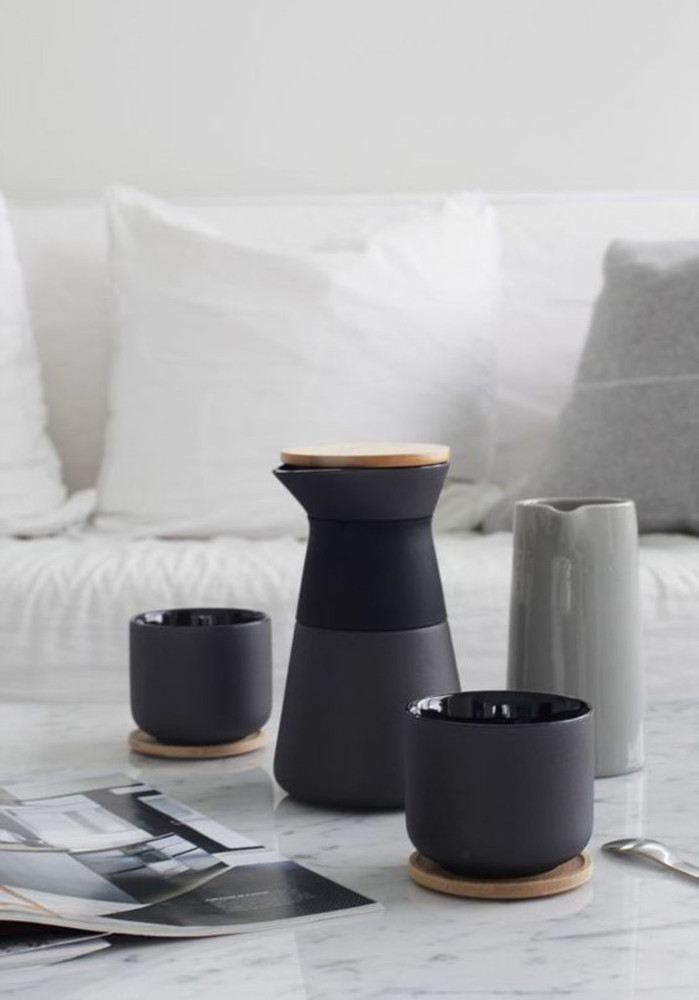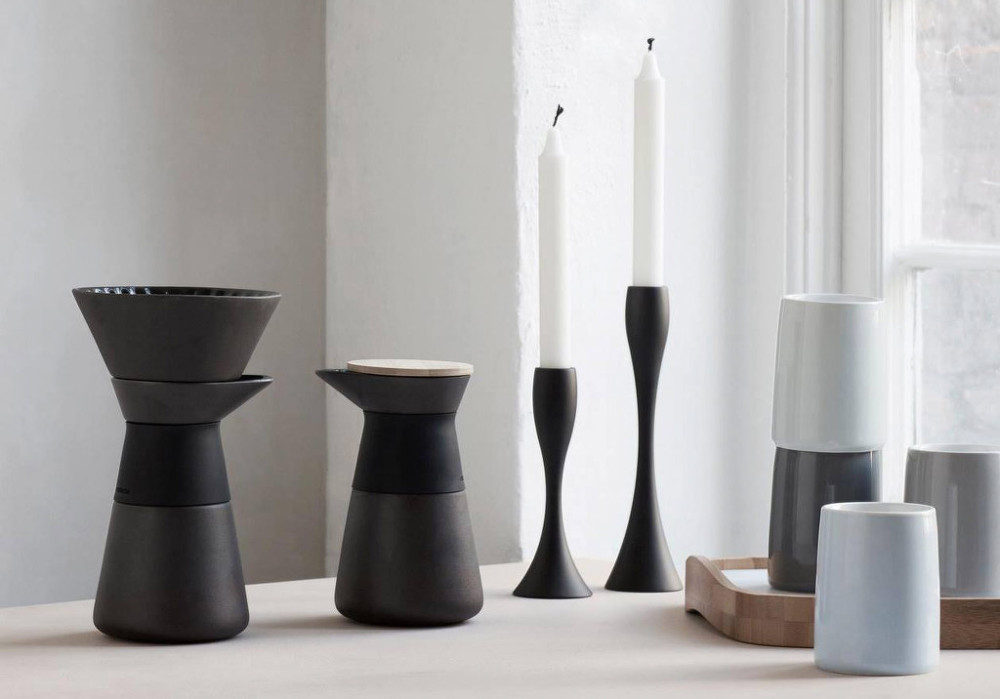 For serving coffee
Of course, a delicious coffee must not be accompanied by stylish serving and we have a selection of matching products: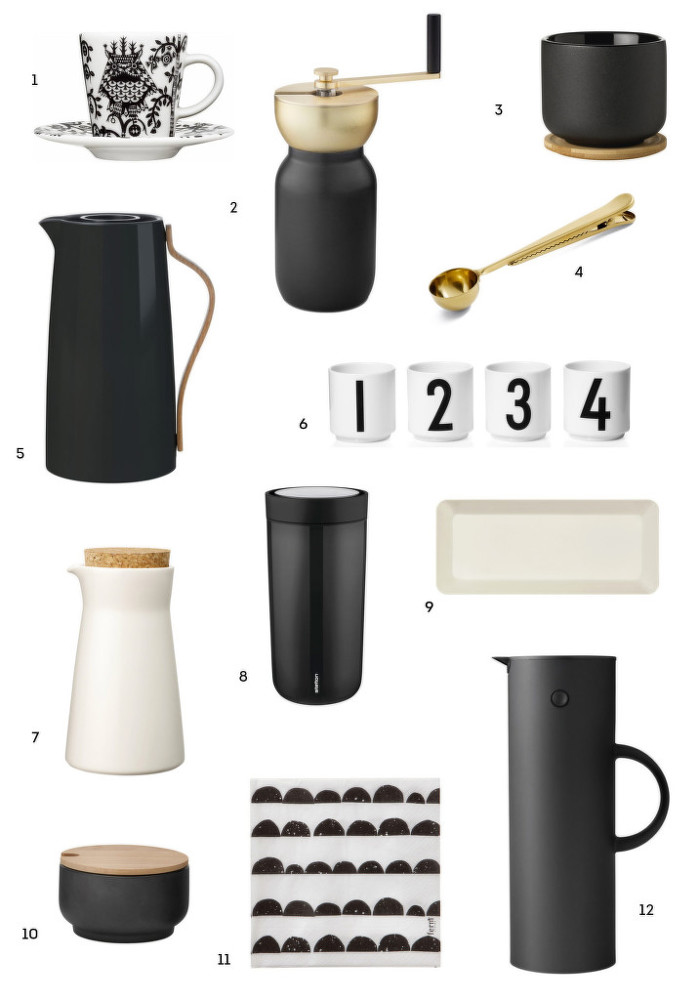 Taika espresso cup. Taika means "magical" in Finnish – the moment of enjoying your cup of coffee will certainly be magical.
Collar coffee grinder. An elegant grinder with a brass lid that also serves as a container for storing freshly ground coffee.
Theo mug. Enjoy your coffee and tea from this stoneware mug with bamboo lid.
Clamp with measuring cup HAY. Great for sealing a bag of coffee and using the measuring spoon to scoop it right out.
Emma Vacuum Jug. Your coffee will stay hot for a long time in the 1.2 litre thermos.
Design Letters espresso cup set . Mugs with typography by Arne Jacoben.
Teema milk jug. Minimalist milk jug with cork cap, perfect for those who like to soften their coffee with milk or cream.
To Go Click thermo mug. Keep your coffee hot on the go.
Teema tray. You can't miss a dessert with your coffee – why not serve it on the Teema tray?
Theo sugar bowl. Sweeten your coffee and your life!
Half moon napkins. The stylish napkins are perfect for black and white dining.
EM77 Vacuum Jug. The iconic EM77 thermos in a modern soft black design.
Don't forget to follow us on our Facebook and Instagram where we share lots of beautiful Nordic inspiration.
---
Photo sources: 1 - vifa.dk, 2-5 and 8 - stelton.com, 6 - muuto.com, 7 - elisabethheier.no